Phil Clark – food boxes and cooked food
Following on from the latest restrictions we shall be continuing as a vital food supplier. I work in a closed office building NOT OPEN to the public with either just myself or myself and one other.
We will work with support and guidance from the government and THE FSA.
We are happy to cover home deliveries in the afternoons for those in need, with food prep meals ready to reheat £5 per pot and essentials supplies boxes £25.
We currently have in stock many other items including pastas, rice, chopped tomatoes, milk – semi skimmed 2 litre and dairy alternative milks (supplies on these are limited) please do contact us for any information.
Keep safe and be kind T: 07816 966372 email alaclarkcatering@gmail.com
Meal options are updated daily so please see his website
www.alaclarkcatering.co.uk
______________________________________________________________________________
Roochi – Indian Takeaway Forest Row – OPEN AS USUAL FOR COLLECTION AND DELIVERY
Firstly, on behalf of everyone at Roochi I would like to thank you for supporting us these past few weeks. As I'm sure you can imagine, these are tough times for local businesses like us so we are very grateful for all the support we are receiving.
New measures: for collections we are only allowing 2 customers in the restaurant at any one time and have extended the rough waiting time to 50 minutes. This allows us plenty of time to get all orders processed and avoids build ups of customers outside the shop. For deliveries, we will be taking payment over the phone.
Order online at www.roochi.co.uk for a 20% discount or over the phone (15% discount) on 01342 825251/ 01342 825254
______________________________________________________________________________
Nongs Kitchen – Thai Food Delivery
With the current situation Nongs Kitchen has decided to do a 'No Contact' delivery service. 🚚
This will hopefully keep our local customers and community continuing to enjoy our freshly prepared and delicious food with ease and as safe a way as possible for everyone.
We will be able to provide the full menu as normal (plus specials which will follow) all you need to do is phone and place your order giving your delivery address make payment by card and then we can tell you estimated time of delivery to your doorstep 😊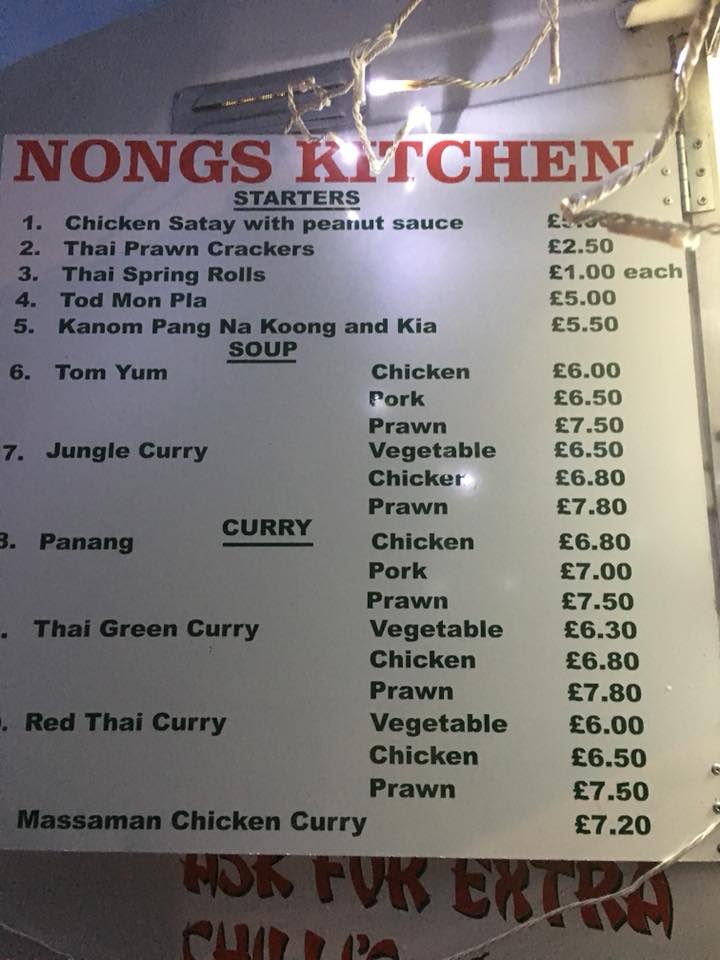 Normal hours for this week are as follows
Friday 5-9 and Saturday 5-9
Pre ordering welcomed from 3pm as all our food is always freshly prepared to order and may take time if high demand.
Call us on 07816 349341
Wishing all our customers good health 🙏💕